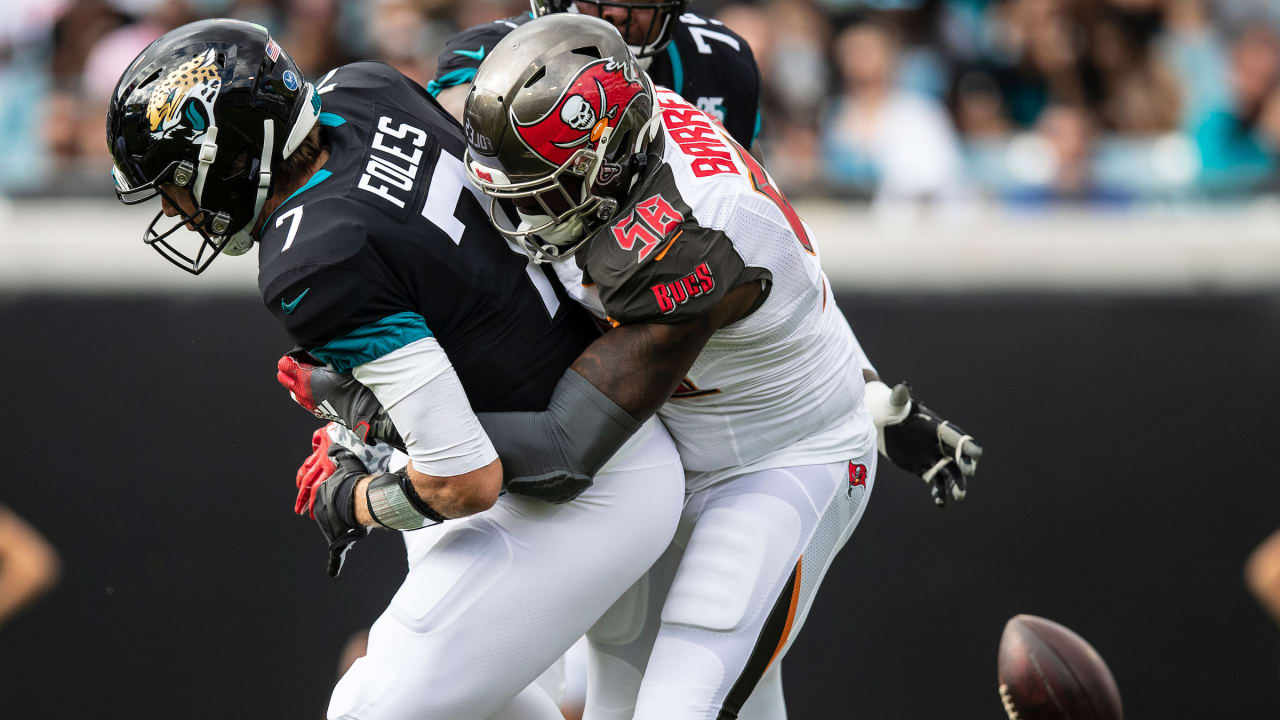 Bucs' free agency work in 2019 has been widely rewarded
– March 12: Quarterback Ryan Griffin signed a new contract
Bucs brought Griffin back for a fifth – fifth! – season on a new two-year contract and while throwing just four assists during the season, he was the best reserve behind Jameis Winston the entire time thanks to Blaine Gabbert's shoulder injury in pre-season. These were the first four regular season assists Griffin threw in his NFL career. He remains under contract for 2020 but it remains to be seen how the Buccaneers approach the whole of that position in 2020.
– March 13: re-signed kicker Cairo Santos
It's reasonable to assume that the Buccaneers brass were already considering the possibility of drafting a kicker later that spring, but at the time, it made sense to bring back the veteran who performed well after being signed shortly after the mid-season in 2018. The Bucs did it. ultimately selecting Utah's Matt Gay in the fifth round, who set up a head-to-head competition for the position in August. Gay and Santos both performed very well in training camp and preseason games, but the job went to the rookie. Head coach Bruce Arians recently mentioned that he enjoys having a preseason competition for his kickers, so it was a good decision even though Santos couldn't find a job in Tampa.
– March 13: running back Peyton Barber re-signed
Like Bond, Barber could have been a restricted free agent had he received the tender, but instead signed a new deal a year before free agency. It was pretty much a given, given that Barber had been the Bucs starter and first rusher in the backfield of 2018 and was able to be held down without a big hat trick. Barber eventually ceded the starting position in 2019 to Ronald Jones, but ended up with almost 50-50 in the races. It was an obvious decision to bring Barber back in 2019, but now he's heading for unrestricted free agency and the Bucs could be looking to shake up their backfield after a year off for their rushed attack.
– March 13: re-signed linebacker Kevin Minter
The Buccaneers had taken over Minter in the middle of the 2018 season after a series of injuries to their linebacking body. Between the end of this season and the start of the 2019 championship year, the team hired a new head coach from Bruce Arians, who just coached Minter in Arizona for four years. Minter ended up being a member of the core Special Team and also served as a starter in place of rookie Devin White for about a month. It turned out to be a very good signing from depth, and maybe the Bucs will do it again as Minter heads to unrestricted free agency again in March.
March 14: Bradley Pinion, unrestricted free player, signed
In the end, the Buccaneers ended up with a very similar punts output (gross and net averages) with Pinion in 2019 as they got from Bryan Anger, who came out in February, the year before. However, the team also coveted the former 49er for his kickoff prowess, and Pinion definitely held on with a record 88 touchdowns in a single season in the NFL. Only seven of his 97 kick-offs have been returned all season. It didn't turn out to be a spectacular signing like some of the others that will be reviewed soon, but Pinion has given the team a solid job in two ways.
March 14: Breshad Perriman, wide receiver free agent without compensation signed
For those who have been patient, this turned out to be a very good signing for Tampa Bay in 2019. A former first-round pick in Baltimore in 2015, Perriman struggled with injury for three years with the Ravens and then moved on. reunited in Cleveland in 2018 and ended the season on a hot streak with a streak of big plays. He looked set to re-sign with the Browns last summer, but the team's plans changed after a trade for Odell Beckham and Perriman was fortunate enough to sign elsewhere, landing in Tampa on a one-year contract . Perriman was the Bucs' third receiver from the start of the season, but he found few opportunities to catch the pass with the ball so often to Chris Godwin and Mike Evans. Perriman did start to emerge in the second half of the season, however, and then became the team's primary target following hamstring injuries to Godwin and Evans. He finished the season with three straight 100-yard games and a final total of 645 yards and six touchdowns, two excellent totals for a third receiver.
– March 15: re-signed cornerback De'Vante Harris
Harris was a potential restricted free agent who did not receive a takeover bid and was not re-signed until the league's new year, meaning he essentially became a free agent. unrestricted on March 14. His time in the market did not last long. as he chose to sign a new one-year deal with the Bucs the next day. It was another in-depth signing and it didn't have much of an impact on the season as Harris was released in late August and didn't catch up with another team in 2019.
– March 15: new defensive tackle Rakeem Nunez-Roches
Nunez-Roches was another deep mid-season pickup by the Bucs during the 2018 campaign and one they decided to bring back for another full season in 2019. Nunez-Roches also hit the very briefly in the unrestricted free agency, but re-signed on a one-year contract. He was a rotational reserve behind a very good starting line of defense, finishing with nine tackles and a fumble. It wasn't a high impact signing, but Nunez-Roches played in every game.
– March 15: Signed linebacker / security Deone Bucannon
Bucannon was another deep signing and a player the Arians were familiar with from their time with the Cardinals. Bucannon was seen as a possible reserve in several different places after playing both safety and linebacker in Arizona, but he never played a big role in defense. When White fell, it was Minter who intervened. Bucannon's role on special teams wasn't huge either, so it was an unsurprising October cut before the deadline that determines the compensatory picks. It didn't turn out to be a signing of much impact, and the Bucs quickly replaced Bucannon on the depth chart with younger linebacker Noah Dawkins.