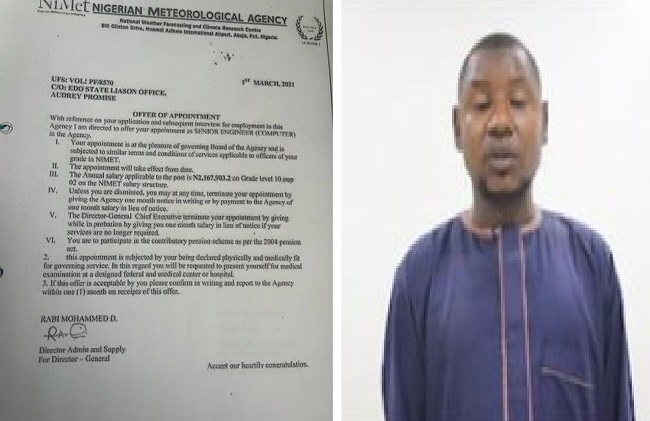 Fired NIMET employee uses agency name to dupe 121 job applicants worth over N5m
Nigerian police officers have arrested a former Nigerian Meteorological Agency (NIMET) employee, Hamza Abdullai Gambo, for allegedly using the name of the agency to dupe around 121 potential job applicants of over 5 million naira.
Gambo, an indigene of Karofim-Madaki Local Government Area in Bauchi State, was arrested by members of the Intelligence Response Team (IRT) led by DCP Olatunji Disu after sending fake letters hiring to unsuspecting candidates.
The IRT team apprehended the suspect in Bauchi metropolis after a Beatrice Itodo reported that the suspect defrauded her of a total of 2,366,000 Naira through fake employment letters from the agency government issued to several of his relatives.
The suspect, who was a former NIMET employee, confessed to issuing the fake employment letters and being paid to issue the letters.
He said he had a graduate certificate and was employed by NIMET in 2003. He also said he was fired, reinstated and then fired again.
IN CASE YOU MISSED THESE FROM NIGERIAN TRIBUNE
Gambo also confessed to sending fake employment letters to a total of 121 job seekers through fake appointment letters designed with the agency's logo and staff signatures before his arrest.
He also admitted through a confessional statement to the police that he collected NN5,173,000 from job seekers through his bank account.
Gambo also disclosed that Itodo initially paid him N2,366,000 for fifteen job seekers and the fake employment letters with NIMET header were sent to them via email addresses.
The suspect confessed, "I don't remember how much I collected based on the individuals, but the total amount is two million three hundred and sixty-six thousand Naira. I received the money through my account number," the suspect said.
He said, however, that he used the proceeds from the sale to build a house with the intention of reselling it to repay the victims' money if needed.
The suspect forged the agency letter with a signature of an unidentified person, Rabi Muhammed as Director of Administration of NIMET dated March 1, 2021.
Police detectives are still conducting discreet investigations into the suspect's criminal activities to apprehend those behind the design and printing of the fake employment letters.