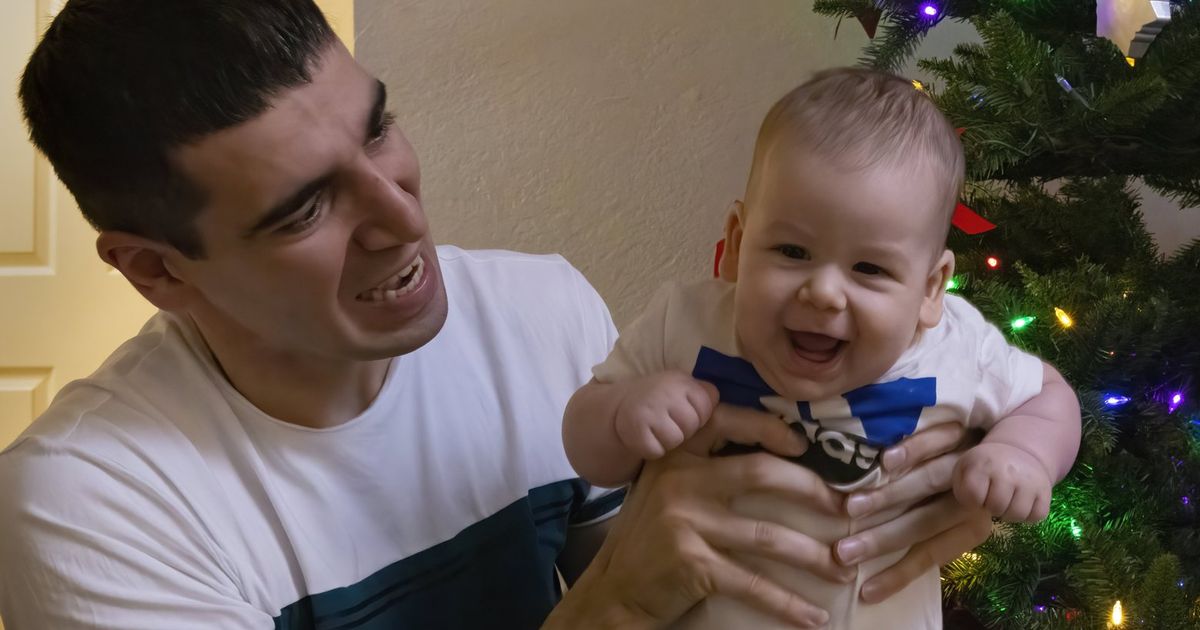 For this asylum-seeking family, Hopelink finds refuge in the Eastside
BOTHELL – Last year, Maxim and Aimani Isaev survived in a motel in Kirkland after fleeing Chechnya, contacting just about every organization imaginable for help with their asylum case. Aimani, 21, was pregnant for the second time and the couple's 2-year-old son had gradually stopped talking.
Without permission to work from the U.S. immigration authorities, the Isaevs could not secure health insurance or an apartment on their own during an affordable housing crisis. They thought their son might be autistic, and without doctors or a diagnosis, they feared he might be lagging behind in his development.
A year later, the family is still waiting for their asylum case to be processed. Yet in Bothell, the family have finally found a little refuge: a two-bedroom, ground-floor apartment they secured through the nonprofit Hopelink while the family's case goes through the system. of American immigration.
Asylum seekers like the Isaev family have few options for earning an income while waiting for their case to process their first year here. It's legal for them to stay in the country, but a Trump-era rule change in immigration procedures has made finding housing even more difficult: to deter people from illegally entering the country , last year, the U.S. citizenship and immigration services more than doubled the amount of time asylum seekers have to wait to apply for a work permit after filing their refugee claim.
Where immigrant asylum seekers once had to wait 150 days to be allowed to work from the date of their asylum claim, they now have to wait a full year.
All of this adds stress to an existing homelessness crisis. Nearly 12,000 people in King County are estimated to be homeless on a single night in January 2020, including more than 3,700 adults and children in families. Almost a third of homeless families with children surveyed in 2020 said they did not know where to go for help; a quarter said they had requested services but never received a response.
Hopelink, a 50-year-old organization that provides shelters, food banks and other anti-poverty programs in the Eastside, North King County and Snohomish County, received that year record financial aid requests to help cover rent costs. Between July 2020 and June 2021, it made it possible to shelter or house 121 families like the Isaevs. Hopelink is one of 13 nonprofits that benefit from donations from readers to the Seattle Times Fund for Those in Need.
At first, the Isaevs didn't think Hopelink had actually found them an apartment, said Maxim, 32. When they entered their new home, Aimani started to cry.
"We prayed, we wished it was the first floor because we have young children," Maxim said. "And it happened. It was on the first floor. And we just checked in and we can't hide our emotions. We were so happy and so happy.
Shayla Dorstad, Isaev Family Case Manager in Hopelink, said she was now working with several families of asylum seekers who found themselves without an income or a place to live.
"They've been through a lot and [Maxim] really wants to be allowed to work so they can build their lives here, "Dorstad said. "Immigration policy right now is absolutely an obstacle. "
Yesenia Bosch Ramos, an oversight lawyer for the Northwest Immigrant Rights Project, said government rules on employing asylum seekers mean some of her clients stay in local homeless shelters or double sleep with them. other families.
The pandemic has also slowed the processing of asylum claims, Bosch Ramos said. The wait can take years.
"At the moment," the lawyer said, "I have cases scheduled for a final hearing in 2023."
Today, the Isaevs' modest apartment is almost fully furnished with things Aimani has found for free online or exchanged with new friends in exchange for pastries. The couple splurged for one item: a Costco Christmas tree that dazzles their now 3-year-old son.
Last month, the US government finally gave the Isaevs permission to work, although barriers to employment remain. In the meantime, the couple receive government assistance which they use to pay part of the rent. In the Isaev apartment complex, Hopelink subsidizes 15 housing units for families spending up to 30% of their income on housing.
The stability allowed the family to move forward with the medical care of their eldest son. This year, he was finally diagnosed with autism, a relief for parents eager to help him.
Hopelink's case management has already helped the Isaev family with financial coaching and the couple can also participate in the organization's English classes focused on employment support. But there are still things Hopelink can't help, Dorstad said, like big medical bills.
"With higher medical bills, we have to seek resources in the community," Dorstad said.
The restrictions of the immigration system regarding work and health insurance surprised Maxim Isaev.
"How can you survive? With two children? He asked. "You can't take medical insurance. It's wild. You cannot get ID. Without ID, you cannot open a bank account.
Now that the Isaev family are allowed to work, they still face a long and arduous path through the asylum process. The backlog of asylum claims for people who are not subject to deportation has skyrocketed since 2012: according to USCIS, more than 400,000 claims are pending.
Processing times have increased due to the increase in the number of cases the agency saw between 2014 and 2017, according to USCIS spokeswoman Sharon Rummery, although "the agency's management 'is recently committed to using all available policy and operational improvements to reduce both the backlog of cases and overall processing times.
While they wait for their asylum claims, the Isaev family dreams of what life in the United States might be like if immigration officials approve their case.
On a recent Friday night, Aimani expertly cut the fat off a piece of lamb while the couple's 5-month-old son kicked him in an inflatable crib on the kitchen floor. Maxim put homemade cake in his oldest son's mouth as he squirmed in his father's lap.
Aimani learned to cook from her mother; she now dreams of opening a flourless bakery because the couple discovered that many Americans need or prefer gluten-free bakery. Maxim, meanwhile, is eager to embark on a career in software engineering, or perhaps real estate.
And most importantly for them, the couple dreams of their children's future. Now that their preschooler is getting help for the symptoms associated with his autism, the Isaevs are hoping he can join a kindergarten program in a few years, Aimani said.
The big problems are still looming. But for now, with the accommodation, the family has a chance to regain some normalcy here, alongside the usual problems faced by parents of young children in this country.
The latest: the terrifying insistence of their eldest son to dance to "Baby Shark" on repeat.
At the mention of "Baby Shark," Maxim leaned back in his chair, his face pained. Her 3-year-old son chewed on a piece of cake as the baby gurgled and continued to bounce nearby.
"I to hate "Baby shark," Maxim said. "All day it's 'baby shark, baby shark!' "