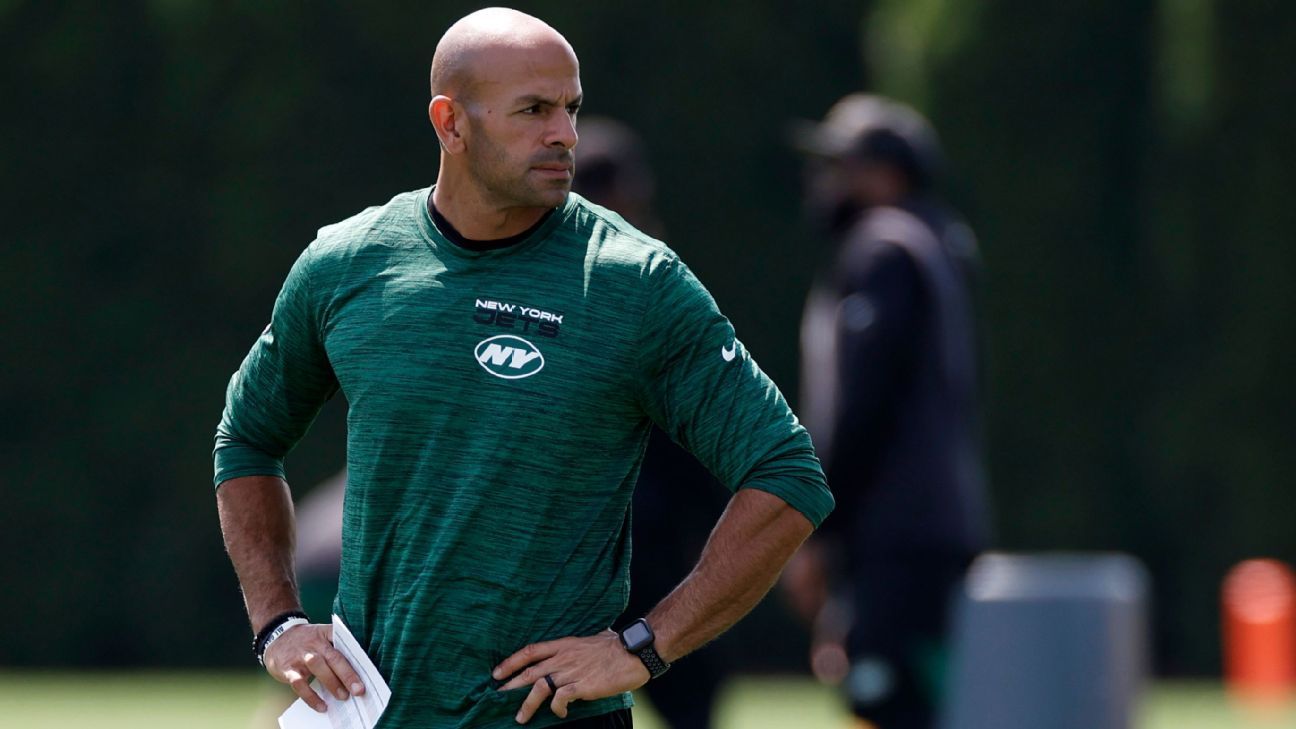 A look at what's going on around the New York Jets:
1. Curses! Crisis management is a big part of the job of every NFL head coach, especially the NYJ HC. For some reason bad things often happen to the Jets. When news of Carl Lawson's injury broke on Thursday, an ex-Jet texted me: "Maybe [Joe] Namath's curse is real. Damn it."
Welcome to New York, coach Robert Saleh.
Lawson's Achilles injury at the end of the season is the first major negative under Saleh's watch. He knew something bad was going to happen because it always happens in the NFL. Now we'll start to learn more about the character of this Jets team. When Saleh spoke in June about the search for the team's identity, he said he wouldn't know the answer until he faced adversity.
Well, they just lost their best pass rusher. Now it's up to Saleh to keep morale up, adjust the staff, and tweak the plan to make up for Lawson's absence.
"I've said it before, the NFL train doesn't stop for anyone," Saleh said Saturday night after a 23-14 win over the Green Bay Packers. "If someone falls off the train… that's another opportunity for someone to jump on the train. There are a lot of men on this football team, especially on the D end, who are scrambling to have an opportunity – and they got it. "
Saleh has already taken this path.
As defensive coordinator for the San Francisco 49ers in 2020, he lost leading passer Nick Bosa to a ripped ACL in Week 2 (against the Jets) and several other starters during the season, but still managed to finish 17th in allowed yards and fifth in allowed points. He's not a big fan of the blitz, but he deviated from his philosophy by increasing the blitz rate to keep the pressure on. Look for him to repeat this plan without Lawson. Saleh's ability to overcome last year's injury scourge is one of the things that drew the Jets.
Saleh feels bad for Lawson, saying, "You can't ask for a more perfect, richer free agent.… Although he got paid, he always wanted more."
2. Lots of money, no bang: Check out the last three major free agent signings of the Jets in defense:
Lawson (2021): Three years, $ 45 million ($ 30 million guaranteed). Missing its first season.

CJ Mosley (2019): Five years, $ 87.5 million ($ 43 million guaranteed). Only play two games in two seasons.

Trumaine Johnson (2018): Five years, $ 72.5 million ($ 34 million guaranteed). Only 17 games in two seasons before going out.
Never in the history of the Jets has been spent so much for so little in return.
3. Adams fallout: Safety Marcus Maye praised former teammate Jamal Adams on his four-year, $ 70 million contract extension with the Seattle Seahawks, saying on his Instagram story, "I love it for you, man!"
All securities are going to love it, because it raises the financial bar – and it will impact the Jets' ability to sign Maye to a long-term deal after the season.
Adams' annual average ($ 17.5 million) far exceeds Justin Simmons of the Denver Broncos ($ 15.25 million) for job highs, so now the next group of new business securities will be looking to capitalize. Besides Maye, there's Tyrann Mathieu of the Kansas City Chiefs and Jessie Bates III of the Cincinnati Bengals.
"Essentially, [Adams] sets a new standard for the expectations of a franchise player in this role, "said Jason Fitzgerald, contract expert, Over the Cap.
Maye, unable to strike a deal with the Jets before the July 15 deadline, is playing on the franchise tag – $ 10.6 million. If he has another good season, there's a chance he'll be tagged again at $ 12.7 million (120% of his current salary). I have doubts about a long term agreement. If the Jets were reluctant this year, why would they change their mind next year when he's 29 and his asking price is higher?
Back-to-back tags would be a favorable situation for the team (two years, $ 23.3 million), given what Adams ($ 34.4 million) and Simmons ($ 32.1 million) earn. during their first two years. Maye is not at their level as a player, but this big financial disparity is probably not going well with Camp Maye. I wouldn't be surprised if his camp takes a page from Adams' playbook and tries to make it ugly if it's tagged again. He did not rule out a request for an exchange in his last interview on his contract.
There could be fireworks the next off-season.
4. No doubt: By the way, the $ 17.5 million a year is what Adams wanted from the Jets last year. He wanted to surpass Mosley ($ 17 million) as the highest paid defensive player. Kudos to Adams for getting so much from the Seahawks, but that doesn't change my opinion of the trade. It was a great deal for the Jets – again.
5. Becton's slow start: Offensive coordinator Mike LaFleur's comments about left tackle Mekhi Becton raised eyebrows: "Mekhi is going through some things right now. He's not playing at his best."
Here's the story: It's not about him being overweight or in bad shape. He's just rusty, having missed all spring with a foot injury. It's a new system that requires movement for the Jets' offensive linemen, and it manages the transition. Becton needs to figure this out quickly because a lack of performance could be dangerous for the quarterback's health.
6. For their eyes only: One of the advantages of joint practices is the ability to spot the opposing team. The Jets staff got a good look at the Green Bay Packers, as they will be this week with the Philadelphia Eagles visiting the Jets facilities on Tuesday and Wednesday. The information they compile is invaluable and could be factored into staff decisions when downlisting. Don't be surprised if one or two players from these teams end up on the Jets – and vice versa.
Sometimes teams are paranoid about joint practices because they fear the other party would leak the practice tape to another team, but there was a trust factor between the Jets and the Packers. Saleh and coach Matt LaFleur are best friends. The brotherly connection between Packers coach and Mike LaFleur also contributed to a smooth collaboration.
7. Sponges: Quarterback Zach Wilson spent time picking the brains of Packers quarterback Aaron Rodgers, who gave advice on how to run two minutes in the car. Mike LaFleur also spent time with Rodgers. When a future Pro Football Hall of Famer speaks, you listen.
"I wanted to give them a few things to think about maybe in their own bedroom," Rodgers said. "He's a first-time coordinator, he's a first-time starter. There are just a few things in the operation that I thought I could help with."
Especially since the two teams lead roughly the same attack.
8. Farewell, coach: The passing of former Jets coach Joe Walton, 85, struck a chord because he was the first coach I covered on the beat. I had dinner with Walton and his wife before the 1989 season (my first, his last), which became the basis for a 2,700 word profile in Newsday. Walton was so relaxed, so outspoken that night, telling stories and twisting my arm to join him for a picture of Sambuca. It is a wonderful memory.
Walton was fired after that season, but he always reminded me of that newspaper story every time I called him in the years since. He always started the conversation the same way: "This is the nicest thing anyone has ever written about me." It was good to hear, but it was bittersweet because I always knew there weren't a lot of nice things written about Walton, including the seven-year journey as a coach (53 -57-1) was marked with a relentless "Joe Must Go!" fan chants and tension with his own players.
"He found his place at the end of his life," said former Jet Marty Lyons, referring to Walton's run to Robert Morris University from 1994 to 2013. "He went back to college and built a program. He took young men and developed them into great leaders and was well respected. They named the stadium after him. I think that's what people should be focusing on, more than his work with the Jets. "
Bill Parcells and Bill Belichick lead the 1986 Giants to Super Bowl victory.
9. Happy birthday, Thon: Speaking of former Jets coaches, Bill Parcells turns 80 on Sunday. He will always be remembered for his championships with the New York Giants, but his impact on the Jets was immeasurable.
10. The last word: Rodgers had funny lines on a few Jets players – former teammate Greg Van Roten and former NFC rival North Jarrad Davis, a former Detroit Lions linebacker.
About Van Roten: "I've had good nicknames for him over the years. Greg Van Rotten. We have some good videos of him. Quite the dancer. "
On Davis: "[He] gave our guys a lot of concussions … Mr. Davis has one of the toughest heads in NFL history.