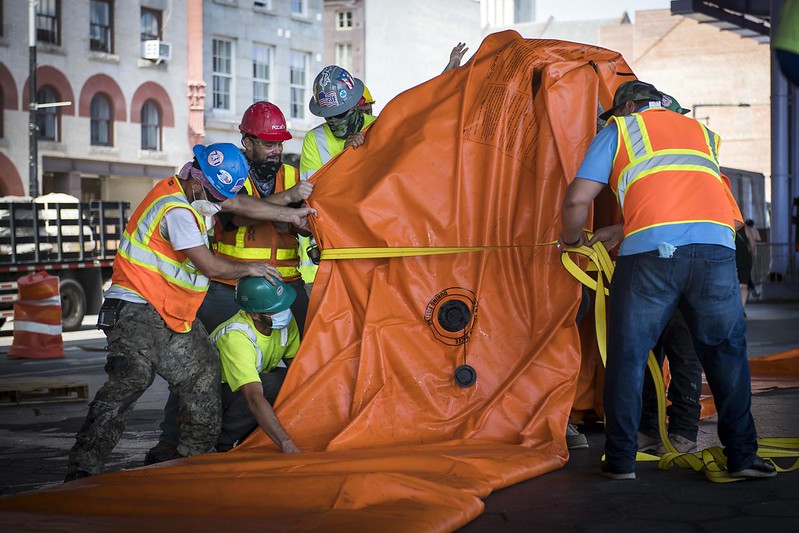 NYC Emergency Management Releases New Five-Year Strategic Plan
NYC Emergency Management Prepares for Flood Prevention (Photo: Ed Reed/Office of the Mayor)
---
New York City Emergency Management (NYCEM), the city's agency responsible for emergency planning, coordination, and response, recently released its 2022-2026 Strategic Plan, laying the foundation for the department's goals, both internal and external, for this project and the next four. years.
The second of its kind, the plan aims to improve the city's preparedness, response and recovery capabilities "for any type of incident" building on the framework outlined in the agency's 2017-2021 plan. and incorporating new lessons learned, strategies and goals. under a new mayor and a new commissioner of emergency management.
"Threats to New York City are constantly evolving – from climate change to cybersecurity to a global pandemic, we must be ready on many fronts to keep our city safe," the mayor said. of New York, Eric Adams, in a statement announcing the release. of the new strategic plan. "New York City's Emergency Management Strategic Plan outlines how we will prepare for, respond to, and recover from these new threats to build a safer city for all."
Adams, a Democrat who took office in January, is himself a former first responder as a 22-year veteran of the NYPD. Earlier this year, he named Zachary Iscol as New York City Commissioner of Emergency Management (NYCEM). Iscol has experience in a wide range of emergencies – including the Iraq War, Hurricane Sandy and COVID-19 – and previously served in the US Marines, running the Javits Center as a hospital covid and as executive director of the Headstrong Project, a nonprofit mental health care provider for military veterans.
"New York City is no stranger to disasters," Iscol says in the plan's introduction. "In this plan, we outline our goals to foster an agile and scalable emergency management capability that responds to new and escalating threats; promotes equity practices; and reaches all New Yorkers – even the hardest to reach – through trusted organizations and communication channels.
Under a slightly different name, New York City Emergency Management was originally established in 1996, tracing its roots to President Franklin D. Roosevelt's Office of Civil Defense established in 1941 with Mayor Fiorello LaGuardia as its director. The modern version of the office was set up by then-mayor Rudolph Giuliani by decree and later became a full municipal service by referendum.
Giuliani was harshly criticized for locating the office's command center at 7 World Trade Center despite the 1993 North Tower bombing a few years prior. Following the terrorist attack of September 11, 2001, 7 World Trade Center collapsed, significantly compromising the office's ability to respond.
Today, NYCEM headquarters is in Brooklyn at 165 Cadman Plaza East.
In the event of an emergency, NYCEM disseminates information using Notify NYC, available via email, text and phone, a service that has become especially reliable and frequently used during the COVID-19 pandemic.
NYCEM has responded to more than 90 emergencies in the past five years, and the emergency operations center has been activated for an average of 265 days over the past three years, and for all 365 days of 2021 as the city continued to fight COVID-19. At the height of the pandemic, NYCEM's expenses increased by 340%, largely supported by federal aid, and its employees worked more than 107,000 overtime hours.
Because emergencies are so unpredictable, the "specific but broad" language of the new strategic plan allows for "a degree of flexibility," NYCEM monitoring and evaluation program manager Jimmy Deats said in a podcast affiliated with the NYCEM.
"Our priorities might change over time," he said. "It's important to reflect the overall goals instead of being too prescriptive."
In setting its priorities for the coming years, NYCEM's Office of Strategic Operations reviewed national trends in emergency management and gathered information on how successful the agency was in achieving initial goals. of its 2017 plan. The agency then condensed its findings into six broad categories: preparedness, operations, equity, people, technology and innovation.
Preparation
As part of preparedness, NYCEM is committed to "maximizing citywide preparedness and outreach efforts to prepare all New Yorkers for emergencies." NYCEM plans to create an "Integrated Citywide Preparedness Cycle" – constant planning, training and implementation of contingency plans – to support communication between city agencies and with other partners. and the public.
NYCEM relies heavily on other city agencies at all stages of an emergency and plans to work with them to "incorporate the principle of continuous improvement," documenting NYCEM's successes and failures to be better prepared. when the next disaster strikes.
NYCEM also depends on the involvement of the community and its community organizational partners. Members of the New York City Community Emergency Response Team are volunteers trained to prepare for and respond to emergencies. CERT workers volunteered 67,434 hours between 2018 and 2021, responding to all kinds of emergencies, including natural disasters, power outages and the COVID-19 pandemic. NYCEM is also committed to informing the communities it serves by promoting emergency preparedness education, sponsoring initiatives such as the Ready New York campaign and the Community Emergency Planning Toolkit. .
Once an emergency occurs, NYCEM must work with other entities to communicate important information to the public, which according to the strategic plan will be tailored to meet the specific needs and cultural differences of diverse communities to promote confidence and to ensure that all New Yorkers have actionable information in the event of a crisis.
Operations
For "operations," NYCEM focuses on its response, recovery, and mitigation performance.
Using knowledge gained from large-scale disasters like the COVID-19 pandemic and Hurricane Sandy, NYCEM's plan calls for the creation of a long-term recovery framework that helps city agencies promote communities healthy, economic growth and effective government leadership.
NYCEM is also prepared to respond to another large-scale crisis – climate change – by implementing mitigation strategies that reduce the effects of environmental disasters, thereby minimizing the need for response and recovery initiatives by managing programs such as the Interim Flood Protection Program, which aims to prevent flood damage. NYCEM will also continuously analyze trends in risk data to anticipate the impact of an emergency on a community, the plan says.
"The city's response posture should be flexible enough to 'rise' for citywide incidents and 'decline' for localized emergencies and impacts," according to the plan.
The agency will provide information to partners at all stages of the emergency and connect with new partners to support services, improve mitigation strategies and coordinate funding.
Equity
In terms of equity, the plan emphasizes the importance of diversity and inclusion, and NYCEM commits to "recruiting a more diverse candidate pool" and "working to ensure that strategies for emergency response…effectively serve all communities in New York City," according to Deats.
The plan recognizes the city's social and economic inequalities and establishes a commitment to an equitable emergency response for all New Yorkers. This goal can only be achieved, Deats said, if the department itself is diverse. NYCEM plans to "create a culture of inclusion" by adopting an equitable hiring model.
"When we have a workforce that reflects the community we serve, that important connection with the community can help us understand the needs and gaps we have as we respond to and recover from emergencies," Deats said. . "Understanding is the key. You will never have this understanding if you come as a foreigner.
NYCEM will continuously analyze its preparedness, response, and recovery initiatives to ensure that they are fair and will make changes as necessary, in accordance with the plan.
People
In the "people" section of the new strategic plan, NYCEM plans to ensure employee satisfaction and retention by incorporating strategies to reduce burnout and promote the professional development of staff.
NYCEM acknowledges that there has been significant staff burnout due to increased emergency activations in recent years, particularly in the more than two years that the city has been dealing with the covid pandemic, as mentioned above.
NYCEM will improve employee morale by listening to staff feedback and providing opportunities for career growth, the plan says. In response to the ever-changing emergency landscape, NYCEM will continually review its organizational structure to ensure preparedness for the next disaster.
NYCEM has launched a staff retention survey that will serve as a "benchmark" to set employment and retention goals and facilitate the agency's ability to retain staff now and in the future, the director said. NYCEM Talent and Culture Deputy Veronica Gaeger on the podcast.
"I think it was a great exercise in really getting everyone's understanding across the agency," she said.
Technology
The agency plans to focus on using technology and data when making decisions, giving context to decision makers during emergencies and presenting clear and informative visualizations.
NYCEM will encourage data sharing among its partner agencies to improve response effectiveness, consistent with the strategic plan. It will also use technology to support its financial and legal operations, enabling better responses as the volume of large-scale incidents increases. NYCEM will also work to establish partnerships in the private sector to assess possible areas where technology can be leveraged to enhance NYCEM's capabilities.
Innovation
NYCEM is committed to promoting innovative approaches to expand and improve its responses to disasters. This includes expanding NYCEM headquarters through upgrades to its facilities and data center to better prepare for future emergencies.
NYCEM will assess telecommuting and virtual operational efficiencies, and prepare for large-scale emergencies by implementing staffing strategies to increase the number of trained personnel that can be deployed when needed. NYCEM plans to expand its on-call emergency contract program to increase its contract limits.
And the Emergency Management Department will also create an innovation program to encourage NYCEM staff to consider new solutions when dealing with new emergencies. The program will allow employees to come up with ideas to improve NYCEM at all levels, the plan says.