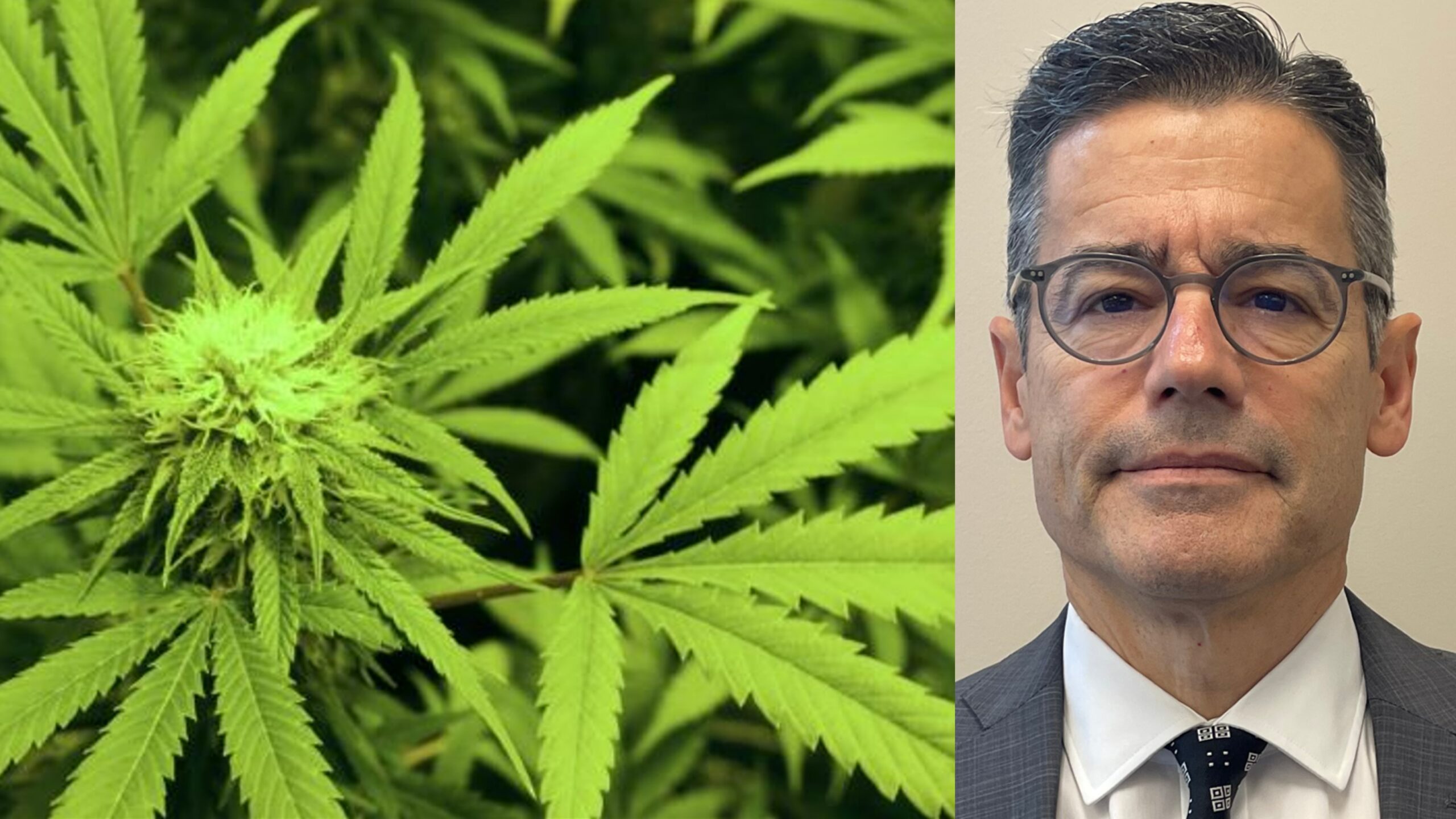 Q&A: Acting head of the Cannabis Control Authority talks about the agency's work and the launch of the retail market ahead of the legislative session
The acting head of the Cannabis Control Authority says he's as interested as anyone in the aftermath of Virginia's pending recreational market.
With the next session of the General Assembly taking place early next year, CCA Acting Chief Jeremy Preiss spoke to BizSense at his fledgling agency's Richmond headquarters last week to anticipate the legislative session which could potentially provide an answer to this question.
The agency, created in July 2021 alongside the legalization of recreational marijuana in Virginia, has yet to begin work on regulating the state's recreational market, as lawmakers have failed this year to reactivate elements of the 2021 legislation related to the launch of the market.
In the meantime, the agency has worked on public awareness strategies and safety programs, assuming its role as regulator of the state's medical cannabis program and filling its ranks.
Preiss has been acting head of the CCA since the spring. He is also the agency's Director of Regulatory, Policy and External Affairs. A lawyer by trade, he came to authority through aerospace and defense company Raytheon Technologies. The governor is supposed to appoint a permanent CEO for the agency, but has yet to do so.
The following transcript has been edited for length and clarity:
Richmond BizSense: Where are we on regulation and determination?
Jeremy Preiss: The 2022 Session Legislature did not re-enact the provisions creating a retail market, so there is no need at this time for these regulations and they would be informed by legislation passed. I think in the shorter term, the legislature directed us, in its 2021 legislation that didn't need to be reconstituted, to take on regulatory oversight of the medical cannabis program. This transition is one of the most important tasks ahead of us.
I think there is interest among elected officials in the possibility of passing additional regulations as part of this. We could get more concrete guidance in the 2023 session.
RBS: What kind of work is done in this process?
JP: This work is progressing on several fronts. We consult with (the current regulator of the program) the Pharmacy Council. Another thing is that we invest in people and technology to make sure we have the capabilities. We have pretty ambitious hiring plans, not just for the medical cannabis program, but more broadly in FY23.
This program has grown rapidly, the medical cannabis program. I think bigger than anyone anticipated. It's probably because it's the only legal game in town right now for accessing cannabis, but I think there's also real patient demand for it.
The last thing we want to do is make this transition disruptive and confusing for them. So the third thing we're doing is planning a communications and outreach program to make sure people understand what this transition means to them, which ultimately shouldn't be very important to them.
RBS: Where are we in terms of numbers?? What are these goals moving forward?
JP: There will be seven of us (employees at the start). We have a general manager from the beginning of October. The plan is to hire employees in FY23 which will bring us to a total workforce of approximately three dozen.
RBS: What kind of roles are are you looking for in this cohort?
JP: There will certainly be plenty of people hired to help administer the medical cannabis program. We also need to significantly strengthen the administrative side of the house, which is why this CAO hire is so important. Right now, there are those of us who have our daily jobs and moonlight as a purchasing manager, HR manager, IT manager. It's not the most efficient way to operate, but out of necessity.
We will be hiring additional communications staff. We identified early on that we had a lot of work to do to make sure people knew we were here and what we were doing. There's just a huge amount of confusion and misconceptions about what's legal and what's not.
RBS: Do you have any ideas on what to expect in the next session?
JP: First and foremost, we are a regulator. We carry out the political decisions made by elected officials. This statement is as true as anything. However, we are a resource. We were created to be where the cannabis expertise resides in the Commonwealth. So we answer questions from elected officials, the administration, other stakeholders and we are asked for our reactions to ideas on future legislation.
It is bipartisan and bicameral. We have ongoing dialogues with elected officials who have a particular interest in this issue, including public officials who may not be as keen on the idea of ​​legalizing marijuana. But up to a hint? There is a lot of activity down. There is a law that is supposed to have been drafted by industry stakeholders.
It's going to be hard. Next year is an election year. Next year is a shorter session. (The General Assembly meets 30 days in odd years and 60 days in even years.)
RBS: I understand 2024 may be a target (for retail market launch), but this piece of reenactment has yet to happen.
JP: There are people who believe that the overriding goal should be to create a retail market that begins to undermine the illicit market and provides a well-regulated and safe product for people who want to use what is now legal. And these people believe that the quickest and surest way to start reducing the illicit market and the crime associated with it is to allow early entry (of certain companies that would sell recreational cannabis before a wider opening of the market).
And then you start getting into some tough waters. People say, "Well, medical cannabis providers are able to do that: become hybrid medical and adult retail providers. And then you have your hemp processors saying, "We can do that too and we shouldn't have just one segment involved." And you have others who say, "I'm neither a (medical cannabis) processor nor a hemp processor and I'm someone who is equally interested in entering the market."
If the Legislature makes progress in creating a retail market, it will be interesting to see what happens to the timeline.
RBS: It depends on when (replenishment) before we start really definitive conversations about market open?
JP: If you keep the timeline from the past, where we start accepting license applications in July of next year and the marketplace is created and we award licenses and the marketplace gets the green light on January 1, 2024, that will be on the based on decisions made by the legislature in late winter/early spring '23. It will be a lot of work in a compressed time frame.
I have noticed in my dialogues with Members of the Legislative Assembly that some are keen to get started as quickly as possible. Promoters. Again, there are a lot of people who don't want a retail market. I want to emphasize, so that people understand the role of the CCA: we do not have a position in a retail market.
There is strong opposition to the creation of a retail market. There are people who are keen on keeping those deadlines and saying, "We have to do this, it's really important that we provide a safe and well-regulated product to start eroding the illicit market." There are others who say, "Yes, we recognize it. But you're talking about a lot of work in a compressed period of time. Isn't it more important that everything is well regulated? »
It will be interesting if the forces favoring the creation of a retail market take over and start to move forward. And if it looks like it's going to happen, you can be sure no one will be more interested in the timeline than (the CCA). This could end up generating a lot of long nights.
RBS: Who do you hear about in these conversations about what the legislation might or might not look like?
JP: I would be comfortable saying that we are certainly in dialogue with the members of the Cannabis Surveillance Commission (of the General Assembly). But the interest goes well beyond that. I prefer not to highlight individuals.
The (medical cannabis suppliers) are certainly interested in what's going on. They will be the first to tell you that they have made investments based on a market that is not limited to medical cannabis. We are certainly in regular dialogue with them. We are also in dialogue with hemp processors and other groups that do not fit into these two broad categories.
Ultimately, if the General Assembly chooses to create a retail market, it must be inclusive. It should not be dominated by a few players, whether they are (medical cannabis suppliers) or hemp processors. It must be inclusive in the type of participant; I think it needs to be geographically inclusive. The opportunity must be shared.
RBS: Are there any states you turn to when talking to lawmakers, giving advice, thinking about what you're doing or preparing to do? Are there any states that stand out as guides for Virginia?
JP: I don't think so overall. It's more of a mix of a bit of this and a bit of that. There are states that are doing interesting things. I know a lot of people have pointed out that Michigan is a similar state to Virginia: in terms of population, rural-urban divide, big cities, that sort of thing. There are a lot of them there, but I was actually in Michigan in August and was blown away by the amount of advertising that would never be tolerated here.
We're trying to build a body of regulatory work here to understand how states deal with some of the more contentious issues. Every program has its challenges, but there are good lessons to be learned. If you consider geography, Virginia is the first state south of the Mason-Dixon line (to legalize recreational cannabis). I can imagine that, in the future, other states south of Virginia will seek to find out how Virginia did it, if the legislature decides to go that route.