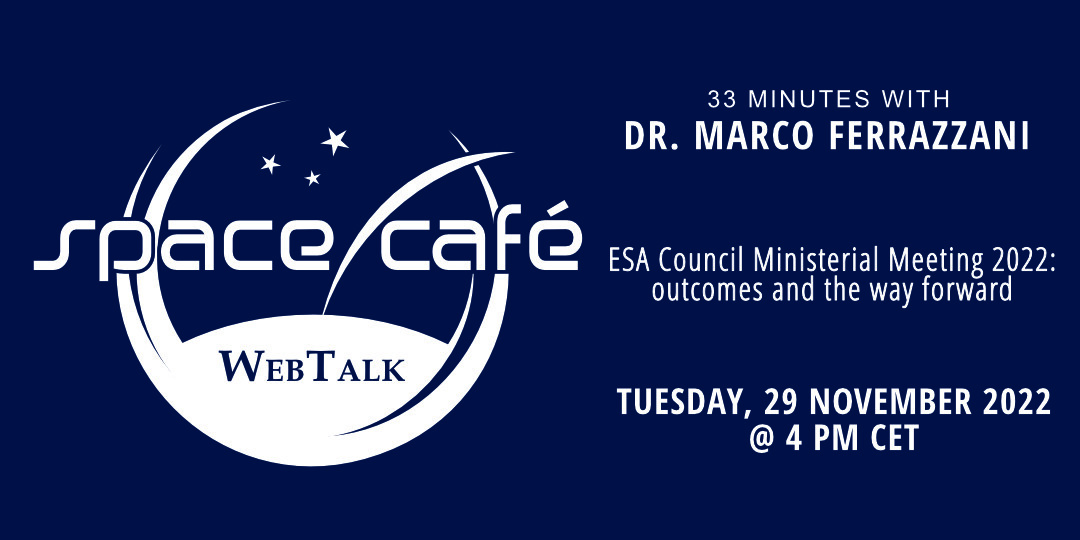 Register today for our Space Café WebTalk "33 minutes with Dr. Marco Ferrazzani" November 29, 2022
This WebTalk Café Space will feature Marco Ferrazzani Senior Legal Adviser and Head of the Legal Services Department at the European Space Agency, in conversation with Torsten Krieningpublisher of SpaceWatch.Global.
2022 ESA Council Ministerial Meeting: Outcomes and Way Forward
On the November 29, 2022 at 4:00 p.m. CETMarco and Torsten will discuss outcomes and future challenges stemming from the ESA Annual Ministerial Council held in Paris on 22-23 November 2022.
Marco has been with ESA for 34 years. In his current position, he provides a full range of legal advice and guidance on the legal and programmatic aspects of ESA programs and policies.
As Legal Advisor to ESA, Marco advises the ESA Director General and the ESA Council on all institutional and legal matters, including the interpretation of the ESA Convention and all the relevant legal instruments. He advises ESA bodies and its Member States on a wide variety of legal issues. Marco represents ESA at international conferences and is the head of the delegation to the Legal Sub-Committee of the United Nations Committee on the Peaceful Uses of Outer Space. He sits on several boards, including those of the European Center for Space Law (ECSL) and the International Institute of Space Law (IISL).
Marco graduated from the Faculty of Law of the University of Naples, where he specialized and received the university award for the best doctoral thesis in international and comparative law. Prior to joining ESA, he was admitted to the practice of the bar in Italy and practiced law in the Milan office of one of the leading international commercial law firms.
The public will have the opportunity to ask questions in dialogue with Marco Ferrazzani.
SpaceWatch.Global is a Europe-based magazine and digital portal for those interested in space and the far-reaching impact of the space sector.
This WebTalk Café Space will take place in English.
Reserve your spot today.