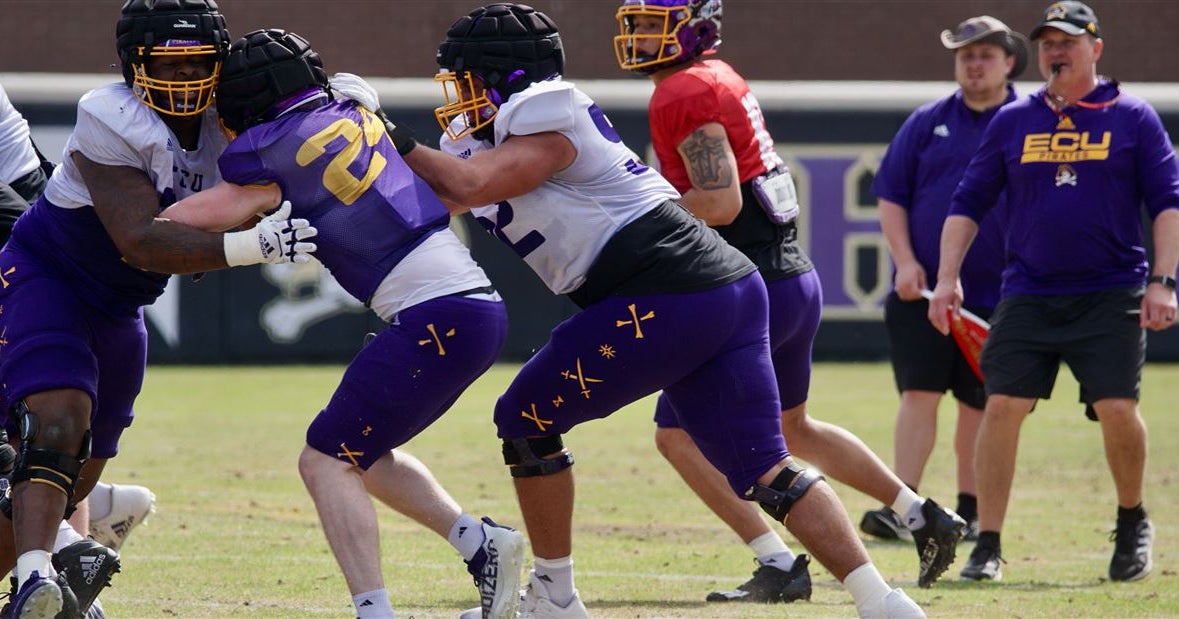 Review of all East Carolina offseason roster moves
OUTGOING
Sean Bailey (eligibility): Bailey was an important member of the East Carolina offensive line in recent years, occupying a starting spot at guard and providing frontline leadership. He was a sixth-year senior in 2021. He is still in the program in some ways as a bodybuilding assistant under strength coach John Williams.
Fernando Frye (eligibility): Frye was another longtime hacker who left the program at the end of the season when his eligibility ran out. The former Division II transfer from Mercyhurst starred for ECU from 2018-22, playing both guard and centre.
Justin Chase (eligibility): Chase was traded from NC State ahead of the 2020 season and he has provided two solid years of work for the Pirates, starting games at both guard and tackle. He provided adequate play and is now signed with the Philadelphia Stars of the USFL, according to his Instagram.
Kyjuan Phillips (Medical DQ): Phillips arrived with the 2021 recruiting class, but never got a chance to make his mark in Greenville, due to unfortunate circumstances. He was deemed a medical DQ in the middle of last year and was therefore removed from the list.
Jaquaez Powell (entered transfer portal): Powell, a member of the 2020 class, entered the portal at the end of the team's season. The former three-star rookie from nearby Southwest Edgecombe hasn't played a game in his two seasons with the team.
Robin Vanderlaan (Retired from football): A former transfer from Oregon State, Vanderlaan spent one season with the Pirates. He appeared in a few games before suffering a season-ending knee injury. Towards the end of his rehabilitation process this summer, Vanderlaan opted to retire from football and return home.
Canaan Clark (transfer portal entered): Clark is a member of the recruiting class of 2021 who signed up last summer and was with the team in the fall. But just a day after spring training 2022, he entered the transfer portal and chose to leave East Carolina.
INCOMING
Justin Redd (Norfolk State Transfer): Redd is one of many graduate transfers the Pirates have taken this offseason. He comes to Greenville with one year of eligibility remaining and will reunite with the tight ends coach Latrell Scott, who was his head coach with the Spartans. FCS All-American and MEAC Offensive Lineman of the Year selection should have an immediate impact at ECU.
Parker Moorer (West Virginia Transfer): Moorer started a handful of sophomore games for West Virginia last season before a Freshman All-American emerged and took the No. 1 job. Moorer entered the portal at the end of the season and returned to his home state of North Carolina with ECU. He has completed spring training and is currently competing for a starting tackle position.
Ben Johnson (Marist Transfer): Johnson is one of three Division I transfers added to the forward for the Pirates. He was a starting tackle and all-conference player at Marist College, but the junior will play the inside offensive line at ECU.
Jacob Sacra (first year): Sacra has been the highest-rated OL commitment ECU for a few years, and it played like that in the spring. He was impressive for a true freshman as a first-timer and seems to have a bright future ahead of him.
Ethan Lang (freshman): Sacra was joined by Lang in this 2022 offensive line class as the top two registrants. The former IMG Academy product showed flashes in the spring, although he has a lot to do as he tries to exploit the central position as a true freshman. His best football is ahead of him.
Samples of Elisha (Freshman): Samples was a three-star signee from North Forsyth, Georgia. He is expected to play offensive tackle at ECU and he signed up this summer.
Omari Allen (freshman): Allen was an under-the-radar prospect for Vance County in Henderson, North Carolina, but the early returns to the product in the state are extremely promising. He is expected to play guard or center with the Pirates.