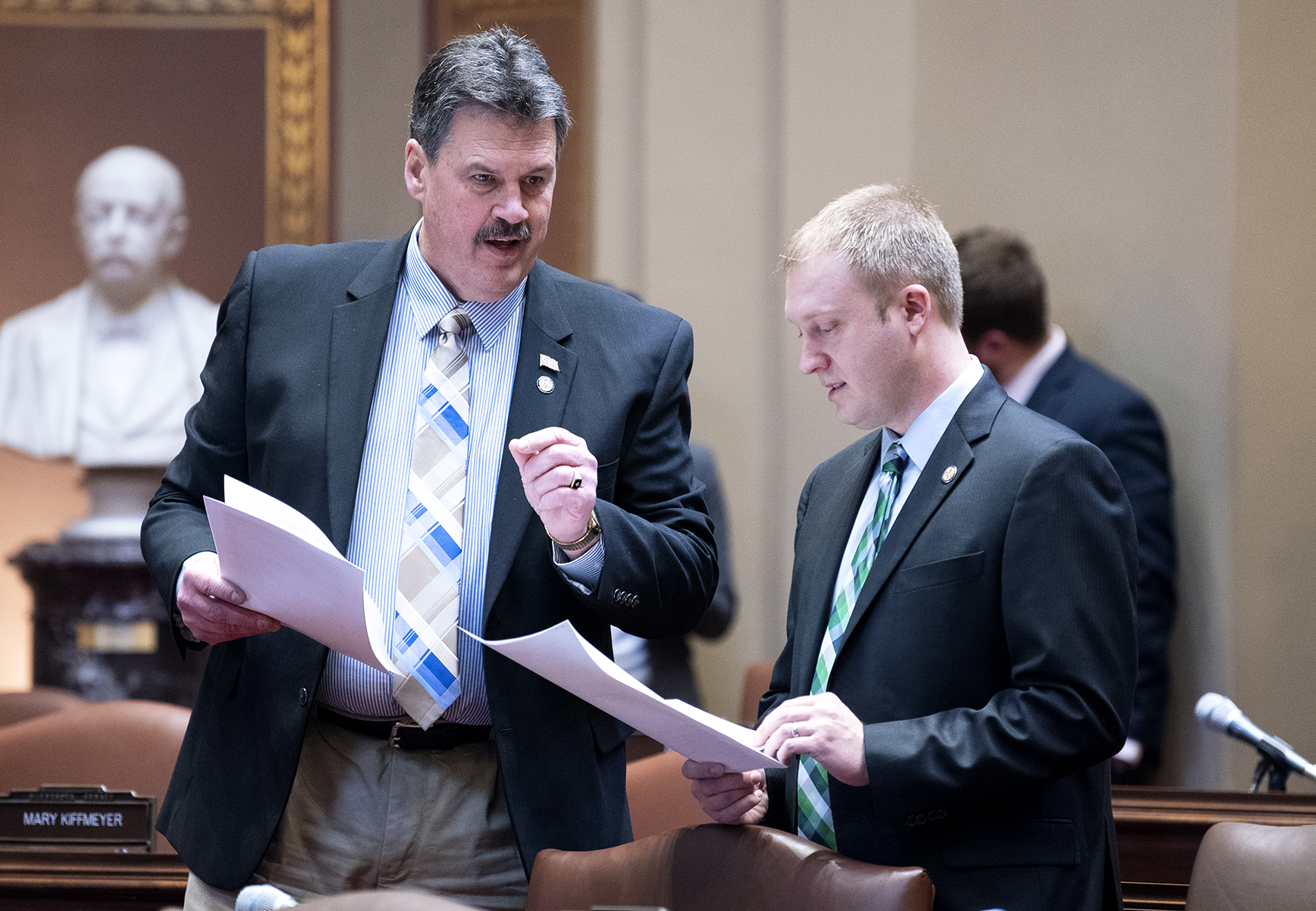 Senate Approves Funding for Bemidji Vets Homes, Funding for Greater Minnesota Roads and Bridges, and Election Security Measures
On Monday, the Minnesota Senate debated and passed legislation covering a wide range of topics, including state government reform, election security, veterans and transportation. The bills aim to increase transparency and participation in elections, support Minnesota veterans and invest in state infrastructure.
"The Senate is working hard to meet the needs of Minnesotans," said Sen. Justin Eichorn (R-Grand Rapids)."Investing in our roads and bridges, securing our elections, and helping our veterans are all essential to making our state prosper. I am particularly proud to have contributed to the financing of our home project for veterans in Bemidji. Helping to house our veterans is something we should all be able to achieve.
Ensure transparency and increase participation in the electoral process
The entire state government and election package contains three central goals: to increase transparency for Minnesotans, to protect taxpayers' money, and to provide voters with more opportunities to participate in the electoral process.
This bill contains several provisions aimed at ensuring the security of our elections. Highlights include requiring specific security marking to identify genuine mail-in ballots, adding security and transparency measures to ballot boxes, and ensuring that a ballot is only placed in a ballot box only by the voter himself. Additionally, funding is included to improve election transparency by live streaming mail-in ballots. The bill also contains an important provision prohibiting nongovernmental groups from paying election-related expenses commonly referred to as "Zuckerbucks."
The bill also prohibits a state agency from adopting rules that restrict consumer choice when it comes to power equipment. This provision will eliminate the Minnesota Pollution Control Agency's costly "California Cars" mandate.
Finally, to protect taxpayers' money and ensure it is not misused, this legislation includes a provision ensuring that nonprofits receiving grants from the state of Minnesota have track records. quality financial management. It changes the requirements for grants to tax-exempt non-governmental organizations and prohibits them from hiring public employees or elected officials.
Investing in Minnesota Roads and Bridges
The Senate transportation bill, which also passed Monday, provides more than $5.7 billion in transportation funding, including more than $4.32 billion specifically for roads and bridges over the next few years. next five years, without gas tax, mileage tax, sales tax or license fees. increase. The bill directs 100% of existing auto parts sales tax revenue to roads and bridges, which will provide an additional $550.08 million over the next three years and a stable and consistent source of funding for transportation infrastructure for the foreseeable future.
"Virtually every aspect of our economy relies on safe and reliable road and bridge infrastructure," said Eichorn."We don't need to raise taxes to fund critical infrastructure. Instead, we can dedicate existing revenues to meet our transportation needs and help fuel our economy. »
The bill also provides special funding for small towns and townships, each of which would receive an ongoing, dedicated funding stream of 7% of auto parts sales tax revenue for their roadway needs.
The legislation continues Senate Republicans' strong commitment to roads and bridges by providing an additional $982.98 million for state roads and bridges, $154.5 million for trade corridors, 303 $.59 million for county state aid highways, $79.75 million for municipal state aid highways, and $69.1 million. for municipal roads and $69.01 million for assistance to small towns. The bill also seeks to secure the state's share of federal transportation funding allocated by the Federal Infrastructure Investment and Jobs Act of 2021.
The bill blocks state funding for any new light rail projects and requires city councils to approve new light rail or rapid bus routes before construction. He also stopped funding for the expensive Rondo land bridge project in Saint-Paul.
Finally, the transportation bill delivers on several Senate Republican promises to improve visits by Minnesotans to the DMV following a scathing independent review of the operations of the Department of Driver and Vehicle Services. The bill implements many of the reforms recommended in the report.
Support Minnesota Veterans
Wording in today's Veterans Bill funds the completion and necessary upgrades to three new veterans homes located in Bemidji, Preston and Montevideo, as well as a bonus program enrollment and re-enrollment that retains and rewards serving military personnel.
Senator Eichorn has been a long-time champion of the Bemidji Veterans Home project since joining the Legislative Assembly in 2017. This year's provision builds on his previous work to ensure veterans in the north Minnesota have appropriate housing. Today's legislation makes it possible to take care of those who have served our country.
These pieces of legislation will now go to conference committees for reconciliation with competing proposals passed by the House of Representatives.