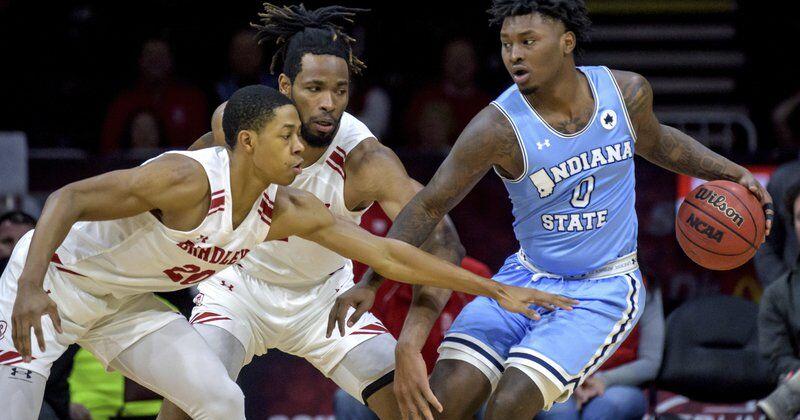 Valley switch: Kent moves from Bradley to ISU | Indiana State Sports
The NCAA Transfer Portal – it takes, but it also gives.
Five Indiana State players entered the portal last week, but on Monday the Sycamores took advantage of the portal to make an addition.
And he's a player familiar to Missouri Valley Conference watchers.
Swingman Jayson Kent announced his intention to transfer to ISU from Bradley on Monday. Kent made his announcement on his social media accounts and the ISU later confirmed his move to Terre Haute via a press release.
"I felt like home when I arrived. The coaches and everyone were so welcoming when I arrived. I just had a feeling. God gave me a lot of signs to go. The team and the players sold me. That's all I wanted and their way of playing matches my way of playing," Kent told the Tribune-Star on Monday.
Kent, a 6-foot-7, 205-pound guard, averaged 6.9 points for the Braves in 2022 while starting 15 of 28 games he's played. Kent converted 38.2 percent of his shots and 26.4 percent of his 3-point shots while making 3.3 3-point shots per game.
ISU coach Josh Schertz believes Kent fits the Sycamores in a number of ways.
"I love that Jayson is two years in this league. He started 15 games and played over 20 minutes for a team that was one of the best in the Missouri Valley Conference. The experience in this league and the being a productive player [is a plus]"said Schertz, who also noted that Kent has three years left due to COVID-19 eligibility.
"It's an intuitive, instinctive move. He moves well off the basketball. He can cut and he's a terrific defender. He can hold four different positions from point guard to all four with no problem," added Schertz. "We talked about getting into the [off-season] on the elimination of deficits. We think his basketball is ahead of him and he's a very academic guy, so he fits in culturally as well."
Kent has a connection to ISU through 2022 rookie Robbie Avila, with whom he played at Oak Forest High School in suburban Chicago. They played together for two years there.
"I can help him transition a lot because I've been in the valley. I understand how tough and physical it is," Kent said. "Having him there definitely influenced me a bit. I think it would be fun to play with a high school teammate. We helped build that program there."
Schertz said Kent's connection to Oak Forest was vital for the ISU to secure his commitment.
"Robbie said Jayson was the best teammate he's ever had. He's a hard worker who loves basketball," Schertz noted. "The way it worked was their family reached out to [Oak Forest coach Matt] Manzke, who contacted us. It was based on the fact that he liked the system, that it was difficult to guard and that it suited Jayson's game well."
Kent — also courted by Southern Illinois, Charlotte, Cleveland State, Towson and Kansas City — believes playing at ISU will give him a chance to improve parts of his game.
"I want to improve my ball handling skills and my decision making. I need to lower my assist to rotation ratio and finally improve my 3-point shot to where it was when I left my high school career," Kent said.
Schertz thinks Kent can be a three-and-D guy for the Sycamores. He's not troubled by his struggles on 3-point shooting, noting that Kent slumped at the end of the year (he missed his last 15 3-point shots of the season), a period that coincided with a wrist injury.
"He was in his 30s before this injury. He's a guy who can evolve and shoot a better clip than the numbers might indicate," Schertz said.
Kent is the first intra-conference transfer for the ISU since the Sycamores joined the MVC in 1977. (Carl Reeder transferred to ISU from Evansville in the mid-90s, but played for the Purple Aces then that they were still in the Midwestern Collegiate Conference.)
Intra-conference transfers were once discouraged by rules that made moves onerous for those who might be interested. However, with the transfer portal and the unique exception of being away for a year? These once taboo barriers have been removed.
Schertz said he had discussions with Bradley over Kent.
"We spoke with Jayson's Bradley staff after speaking with Coach Manzke and Robbie. We wanted to hear their thoughts. They wanted him back and were disappointed he was leaving, but they were very complimentary," a Schertz said.
Schertz also noted that this was part of the sea change in college basketball in general.
"Nowadays? It's for all intents and purposes free agency. It's hard to get a better sense of how someone is than when they're playing in your own league. I think it will become more common, not just in Missouri Valley, but in other leagues. We're not necessarily looking for Missouri Valley players, but this was a unique deal," Schertz said.
"I hope there is no awkwardness. It will become more common, like a Donovan Clay [who left Valparaiso in 2021 to go to Missouri State] or a Jayson Kent or possibly someone from ISU will also go somewhere in the Missouri Valley. You're going to see it become more mainstream where it's going to be like the NBA where a guy could play for the Lakers one year and the Clippers the next. It will be a natural part of what happens," Schertz said.
As for Kent? He said the move was first and foremost suited to the ISU.
"I'm used to the valley and ultimately it was pretty much where I could fit in," Kent said. "I appreciate Bradley so much. They developed me mentally and physically, especially the weight trainer, Eddie Papis. They also developed my defensive game."
Kent becomes the first player since Allante Holston to transfer to the ISU after playing against the Sycamores as an opponent. Holston had played for North Texas against the Sycamores in 2017 before playing for one season as a graduate transfer for the 2018-19 season.
ISU plans to continue to be active in the portal. There is a one-week dead period that begins on Friday, but the program will be active once the dead period is over to fill roster spots.