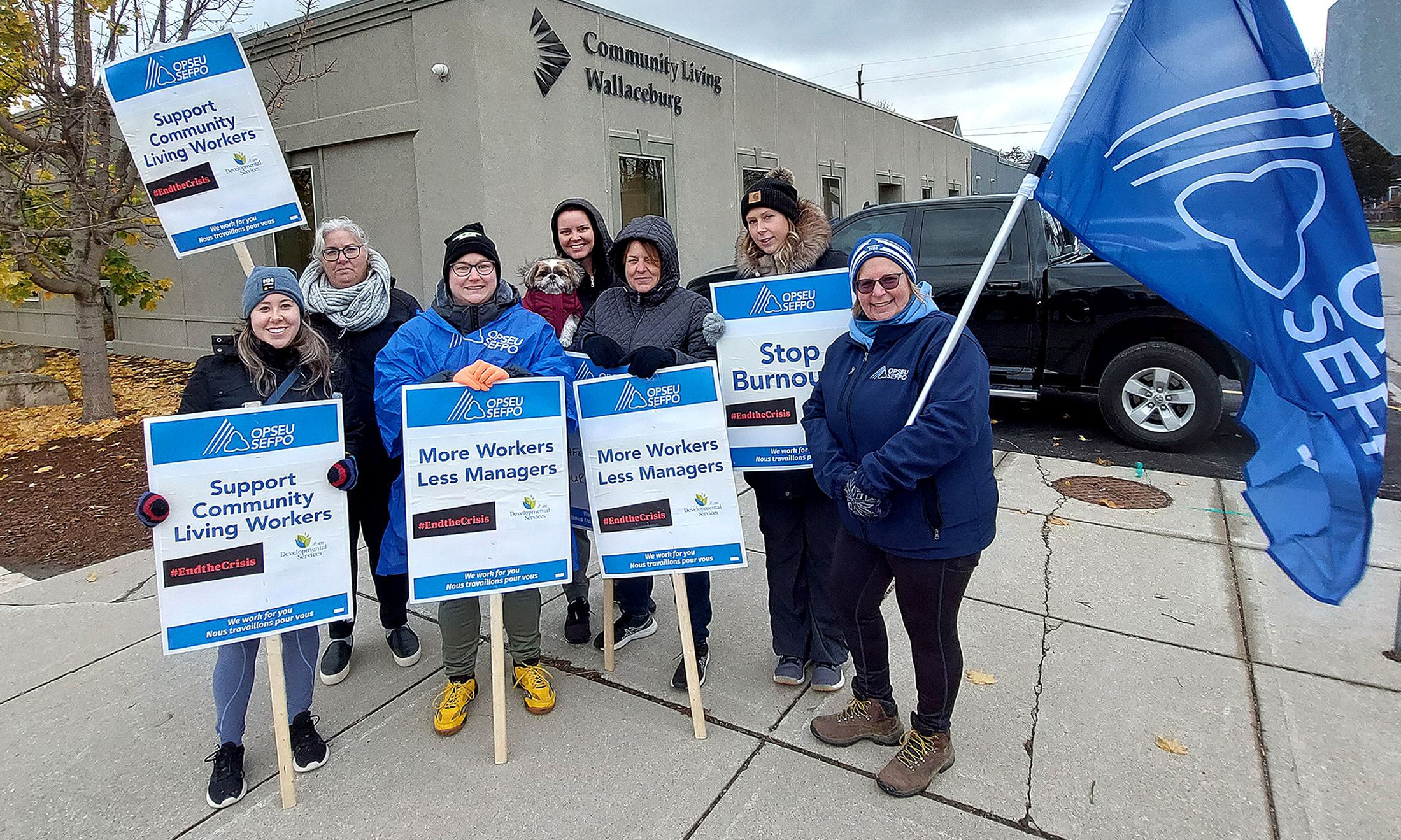 'We are constantly working': Community Living Wallaceburg workers hold rally
Content of the article
Frustrations over working conditions, low wages and employee burnout prompted unionized workers at Community Living Wallaceburg to rally outside the agency on November 16.
Content of the article
Kim Therrien, president of Local 150 of the Ontario Public Service Employees Union (OPSEU), said the agency has lost more than 100 workers since 2020, putting a heavy strain on the remaining staff.
"It's really difficult. We are constantly in overtime. We are forced to stay (at work)," Therrien said. "We no longer have a family-life balance. We are constantly working.
She said the staff cared about the people they worked with, which is why many stayed with the agency despite their worries.
The agency provides housing, respite, community support and employment services to over 450 people with developmental disabilities and their families throughout Chatham-Kent.
"But it gets difficult," she added. "It's really hard on our families and on us mentally, basically."
Content of the article
The workers have also been without a contract for almost a year, with their last contract expiring on December 31, 2021.
Tracy More, an OPSEU bargaining supervisor, said there have been some good days of bargaining, but noted that there are "sticking points where we are at opposite ends of the spectrum."
She said those contested elements include management's wish to remove seniority, which is "a fundamental union principle and which is prohibited for us."
Others said there is also the problem of overworked employees who are "forced to stay on the job".
The agency has a policy that requires employees to stay on the job if there is no other worker available to take over, she explained.
"You can imagine that with the retention problem, people stay and work 16 to 18 hours a day."
Content of the article
There are occasions when a staff member will actually bring a backpack with a change of clothes because they don't know if they'll be able to leave at the end of their eight-hour shift, Therrien said.
Community Living Wallaceburg executive director Deborah Hook acknowledged after speaking to the agency's operations director that there have been times when staff have been asked or required to work double shifts.
She added that the second shift is most likely scheduled from midnight to morning.
When this happens, she said management will try to get the person coming in for the day shift to arrive earlier.
Hook added that management is "working really hard to try to mitigate that."
As for staffing shortages, Hook said the "recruitment challenges" facing Community Living Wallaceburg are not "unique" to that agency.
Content of the article
"Employers in all industries, but particularly care sectors like ours, face extreme challenges," she noted.
Therrien said there are thousands of hours of compensatory time accumulated collectively by staff, but there is no real time to use them or even take vacations.
Hook said the agency must have enough staff to provide round-the-clock support and care for the people it serves.
She added that the agency needs to restrict vacations, especially during high demand periods, which results in junior employees with little seniority not being approved during peak hours.
Therrien said having more full-time staff would not only provide staff with a family life, but would help them "effectively support individuals without being stressed, without burning out".
Content of the article
Hook said there are currently 26 vacancies at Community Living Wallaceburg, but stressed the agency is doing everything in its power to recruit and retain those positions.
"In particular, we are prioritizing the creation of new full-time positions to try to attract more workers to come to our agency."
Hook said the agency knows the pandemic has been difficult and stressed that the work of its employees is valued.
She added that the agency has taken advantage of Bill 124's temporary pandemic-related exemptions "to compensate our employees, including generous bonuses for working during outbreaks, holidays, call-outs and work weekends." summer, gift cards, gift bags, prizes, meals and a host of other benefits.
Hook said employees were allowed to defer or be paid for accrued time that would otherwise have been lost under the terms of the contract.
"None of these improvements were negotiated by the union," she said. "None of them were required by the government."
Wages remain an issue for the union, which notes that workers earn an average of $21 to $22 an hour, with many part-timers having little or no benefits.
Hook said the agency is committed to negotiating an increase beyond the Ontario government's $3-per-hour base wage hike, despite the lack of new provincial funding.